It's not just dessert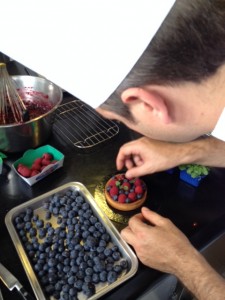 At the start of pastry week, I considered sweets to be an island unto themselves on the culinary map. However, as the days passed, I began to reconsider my separatist approach to dessert.
Sugar marks moments of celebration, it picks us up when we are down and it offers closure at the end of a meal. Dessert is not all laughter and smiles; as evidenced by Sidney Mintz's iconic book Sweetness and Power, sugar certainly has a political, social and economic darker side. Â Many times in my life I have tried to discount sweetness. Perhaps this is because sugar was always underplayed and even sidelined in my childhood. My mother only allowed dessert on special occasions or as an exceptional treat. While doing fieldwork at the Porta Palazzo market, I was disappointed that the first job I landed was selling sweets. To my surprise, this turned out to be the most interesting of all the places I worked at the market: I learned about people's desires, insecurities and health issues. I began to understand that sweetness can teach us a great deal about our humanity–whether we choose to embrace or reject it.
Saturated with sugar and butter, towards the end of pastry week I started to wonder how  people could eat the desserts we were making at the finish of a multi-course meal. I asked the chef instructor if he considered the rest of the meal when imagining and designing a dessert. He looked at me with a strange expression, "No, I have heard that there are people in this healthy movement who try to make lighter desserts but that's not what pastry chefs do." He continued on lecturing us about the differences between crème mousseline and crème princesse. In culinary school, pastry is also an island out on its own.
Just as each savory course should consider the next, maybe dessert should also be more closely integrated into the menu. Good meals should have coherence and diners should be encouraged to enjoy the pleasures of sweetness. Wouldn't it be nice if this pleasurable moment did not leave them feeling guilty and ill? It must be possible to build a bridge between the island that is pastry and the land that is the rest of the meal.